Paddle shifters - Individual
Do you want to have an individual set of paddle shifters? This product is for you.
Select the type of material (Aluminium, Carbon or Forged Carbon), specify the color codes (or the appropriate names of colors), tell us the color of the +/- (in case of Carbon or Forged Carbon) and the finish of the shifters – glossy or matte.
For special requests (M colors, colored Carbon Fiber, etc), please contact us through Facebook/Instagram or per Email.
We accept the following payment types: VISA, Mastercard, American Express, PayPal, SOFORT and many more.
Free shipping in Germany and Austria. Free to return within 30 days.
We provide free install service for you in the vicinity of Munich, Germany.
Our paddle shifters will work with all the F series BMW, including M and non-M versions
Complete the look of your interior and take your interior to the next level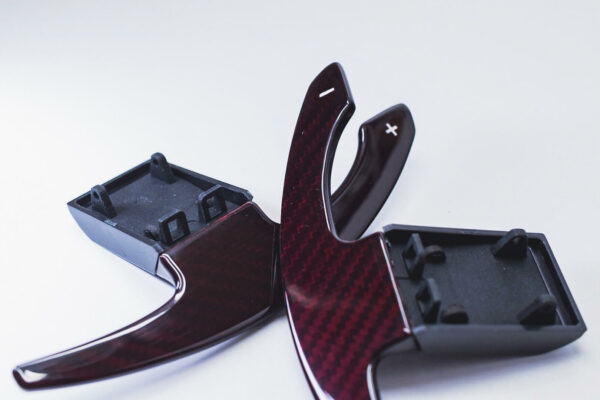 Additional information
| | |
| --- | --- |
| Installation time | 5-10 Minutes |
| Material | Aluminium, Carbon Fiber, Forged Carbon Fiber |
| Paint color | You decide |
| Vehicle | BMW 1-series F40 2019-, BMW 1-series five-door, 2011- F20, BMW 1-series three-door, 2011- F21, BMW 1-series Gran Turismo, 2014- F44, BMW 1-series Sedan F52, BMW 1-series Sedan E87 LCI, BMW 2-series, 2013- F22, BMW 2-series, 2014- F23, BMW 2-series Active Tourer, 2014- F45, BMW 2-series Gran Tourer, 2015- F46, BMW 3-series LCI E9X, BMW 3-series saloon, 2011- F30, BMW 3-series Touring, 2012- F31, BMW 3-series Gran Turismo, 2013- F34, BMW 3-series saloon 2018- G20, BMW 3-series Touring 2019- G21, BMW 4-series, 2013- F32, BMW 4-series, 2014- F33, BMW 4-series four-door coupe, 2015- F35, BMW 4-series Gran Coupe F36, BMW 4-series Coupe 2020- G22, BMW 4-series Convertible 2020- G23, BMW 5-series saloon LCI, 2010- F10, BMW 5-series Touring LCI, 2010- F11, BMW 5-series 2017- G30, BMW 5-series Touring 2017- G31, BMW 6-series convertible LCI, 2011- F12, BMW 6-series coupe LCI, 2011- F13, BMW M2 Standard/Competition F87, BMW M3 Stardard/Competition/CS F80, BMW M3 2020- G80, BMW M4 Stardard/Competition/CS/GTS F82, BMW M4 Cabrio Stardard/Competition F83, BMW M4 Coupe 2021- G82, BMW M4 Convertible 2021- G83, BMW M5 F10 LCI, BMW M5/M5 Competition F90, BMW M6 F11, BMW X1, 2015- F48, BMW X2, 2018- F47, BMW X3/X3M Competition F25/F97/G01, BMW X4/X4M Competition F26/G02, BMW X5/X5M Competition F15/F85/F95/G05, BMW X6/X6M Competition F16/F86/F96/G06, BMW 8-series Coupe 2019- G15, BMW 8-series Cabriolet G14, BMW 8-series GranCoupe 2019- G16, BMW M8/M8 Competition F91/F92/F93, BMW Z4 G29, BMW i8, Toyota Supra J29 |
Only logged in customers who have purchased this product may leave a review.